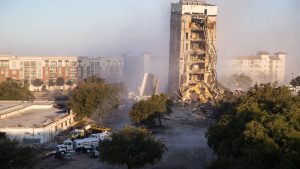 The demolition of a tower by implosion ended badly on Sunday in Dallas, Texas, when a part of the 11-storey structure resisted blasting.
An 11-storey building in Dallas has failed to abide by the laws of gravity. A controlled explosive demolition has left a portion of the building – subsequently nicknamed The Leaning Tower of Dallas – stubbornlyupright. pic.twitter.com/AM1qTBAmEM

— demolitionnews (@demolitionnews) February 17, 2020
"You could see the building collapsing, then this tower in the center remained standing. She is always there. Amazing!" Said a witness at the scene on KTVT, a local news channel.
According to demolition experts, it often happens that the heart of a building and the elevator shafts resist, but in this case, even a long-range excavator was unable to bring the tower down.
The teams on site are now thinking of using a crane and a demolition ball to shoot it down.
DFW's new attraction – the Leaning Tower of Dallas pic.twitter.com/73TpMWaHVI

— Terry Searcy (@WTerrySearcy) February 17, 2020
Meanwhile, it is not likely to collapse by itself, said the authorities.
The land is to be used for a new 27-acre development with several high-rise residences, offices, hotels, restaurants, a park, and entertainment.
(Visited 1 times, 1 visits today)
See How NaijaCover.Com Make Money From Blogging Business, CLICK HERE