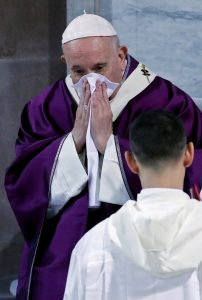 The Head of the Catholic faith in the World, Pope Francis has canceled a mass today as he was struck down with an illness.
Naija News Understands that the 83-year-year-old pontiff was due to worship with clergy at St John Lateran basilica on the other side of Rome but stayed at home in the Vatican.
Vatican spokesman Matteo Bruni said Francis had a "slight indisposition" and preferred to stay in the Santa Marta guesthouse where he lives.
He added: "All other commitments will go ahead."
It is not clear what his symptoms are, but he was seen blowing his nose and covering his mouth as he coughed during an Ash Wednesday service in St Peter's yesterday.
Naija News recalls that Pope Francis had earlier expressed his solidarity with those hit by the global outbreak of the novel coronavirus on Wednesday, praising those working to battle the virus.
I would like to express my closeness to the coronavirus patients and to the health workers who are treating them, as well as to the civil authorities," the pope said at his weekly audience at the Vatican.
(Visited 1 times, 1 visits today)