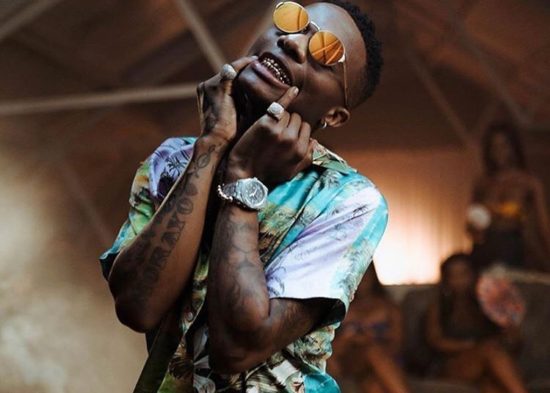 Wizkid has finally replied Lauretta Onochie, who called him out for addressing President Buhari as "old man".
The exchange of words stems from Wizkid's comment about the President, Major Gen. Muhammadu Buhari (retd.) over the weekend where he referred to Buhari as an 'old man'.
In her tweet, Onochie stated that the singer exhibited crass ignorance, insensitivity and childishness with the way he addressed the president as an old man.
She further called him a 'dumb kid'.
Onochie tweeted, "Its not disrespectful to call anyone old. Its the way and manner Ayo Balogun addressed the President that leaves a sour taste in the mouth. He exhibited crass ignorance, insensitivity and childishness. But hey, he's a #DumbkidNotWhizKid. When he grows up, he might learn respect."
In reply, he reminded her of Buhari's age, cited himself as a father and expressed his simple demand of good governance.
He wrote:
"lol a 77 year old man is not young ma.. You are a woman and a mother and kids are getting killed by police/sars and this is all you have to say? shame on you!!! shame on you!! I am a father and age has nothing to do with demanding for a better governance in my country!!"
See screenshot below;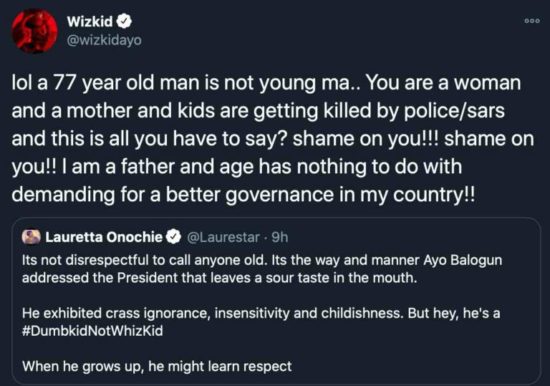 The post #EndSARS: "Shame on you" – Wizkid replies Lauretta Onochie after she called him a dumb kid appeared first on .
(Visited 1 times, 1 visits today)
See How NaijaCover.Com Make Money From Blogging Business, CLICK HERE