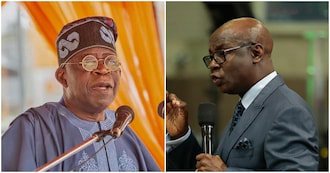 Pastor Tunde Bakare, the serving overseer of Citadel Global Community Church, formerly known as Latter Rain Assembly (LRA) has denied claims of being paid to praise former governor of Lagos state and chieftain of the All Progressives Congress, Bola Tinubu in a recent sermon.
Recall that Bakare had described Tinubu as someone who has fought and won many battles for the Yoruba people, and further likened him to Jephthah in the Bible who delivered his people despite the circumstances of his birth.
However in his Sunday December 27, sermon titled 'There is None Holy as the Lord', the popular Pastor stated that there is "no one in this country or elsewhere who is rich enough to pay him off". Bakare stated that his sermon on Tinubu was taken out of context, and further described those behind the act as "undertakers".
It read;
"One would have thought that the whole message of over an hour would be listened to so that the context of the clip that went viral would be listened to before judgment is passed by those who considered us to have taken a 360-turnaround compared to the thoughts we had taken previously about the man many love to hate and many hate to love.

"Instead, the bathwater and the baby were both thrown out by some self-appointed undertakers who think the way forward in our dilemma as a nation is to uproot the tares and separate them from the wheat long before the harvest time ordained by God.

"You think somebody will pay me for what I am doing? No one is rich enough to do it. No one in this country or elsewhere is rich enough. And I am not for sale because I have been bought. I was bought by the blood of Jesus Christ on the cross of calvary and no other price can match that. And if you know of anyone who has given me money at any time to do what I am doing, expose it."
The post Pastor Tunde Bakare reacts to claims that he was hugely paid by Asiwaju Bola Ahmed Tinubu to speak on his behalf. appeared first on .
(Visited 1 times, 1 visits today)
See How NaijaCover.Com Make Money From Blogging Business, CLICK HERE