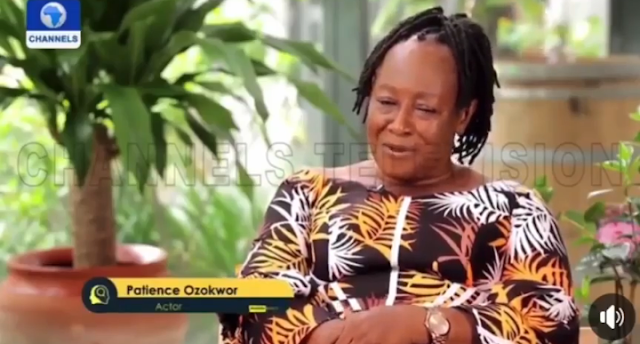 Veteran Nollywood actress Patience Ozokwor sat for an Interview with Channels TV and opened up on Marrying too early and how she felt….
It is a must read interview.
Interviewer: You talked about how you were married at an early age, what led to that? was that a decision you made for yourself.
Patience: It was my parents decision, I came from a polygamous home, where my mother's mates daughters were getting married and she also wanted hers (daughters) to get married. Then the one who presented himself, they said they couldn't wait for my love. I was forced into married that's it,
Interviewer : What was the experience like being Married so young
Patience: It was horrible, our own time, you don't decide who marries you, anybody can arrange it, once your parents have accepted then you are in for it.
Interviewr: Was it an experience where you grew into loving your husband or was just a companionship.
Patience: Both, Because when you try to please your parents.. in our family you don't come back from your husband's place, you have to stay manage it make the best out of it. So when I came in I saw what was involved I had to put my head because I didn't want to disappoint my father who loved me so much so I stayed back. In my place it's not easy for you to abandon your children, and leave.. so I had to stay. the reason I stayed was to please my family, secondly to take care of my children. so whether there was love or not but doesn't matter.
Interviewer: You talked about your commitment and needs to take care of your children , was what inspired you to find what ever you could lay your hands on. Where did you find that resilience to raise your children while you were in so many ways also the financial head of the family.
Patience: when you discover that the man is already sick with some terminal and circular diseases , you may even have to battle with training the children and also helping him out. He is your husband, you can't deny it. You must do your duties as a wife and coming from a Christian background, divorce is not allowed, that also gave me the courage to do what I did. I remember the first time he recovered from coma he said if anybody told him I would be able to take care of him like that he wouldnt believe I asked why? but you are my husband. Everybody thought at a time I would walk out of the Marriage but I couldn't Because I had my family to protect and children to care for.
Interviewer: What are your thoughts on the way marriages are appearing to seem, do you feel like there is a room for change or you prefer this new generation where people have their own agencies to pick and choose how they marry
Patience: That is not Marriage for me, that is just relationship that could be broken anytime. For me, Marriage is forever until death do us part and that's the way i brought up my children and that's what I'm looking out for. By God's grace with prayers it's working out for me. What we have today baffles me, and I feel for their children because I don't know how they would learn something better from their parents. We are praying for this generation and the generations to come, that is our duties as good mothers, because without our prayers what you see today is a child's play in the future. it will be worst and that is what I don't want to hear. I don't want my generation yet to come to have such problems so I start today to pray for it
The post Actress Patience Ozokwor Says Marrying Too Early Was A Horrible Experience For Her appeared first on .
(Visited 1 times, 1 visits today)
See How NaijaCover.Com Make Money From Blogging Business, CLICK HERE