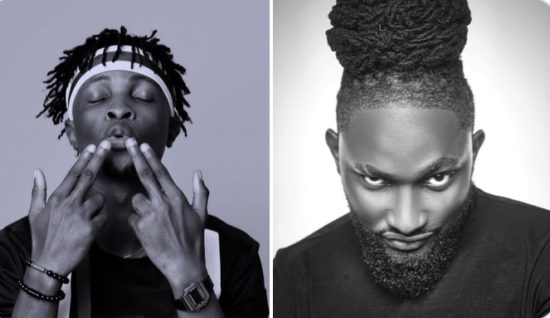 Big Brother Africa Winner Uti Nwachukwu has taken to his Twitter page to make a condescending remark about Big Brother Naija Lockdown housemate Laycon.
Uti, who is one of the biggest fans of Big Brother Naija, is famously known for campaigning for a Housemates every year doing the Reality Show. This year, his favorite housemate is Erica.
However, since the love triangle between Erica, Kiddwaya and laycon started in the show, Uti has publicly criticized and attacked Laycon, who he always claim is not good enough for his favourite housemate Erica.
Today, Uti Tweeted a mockery statement on the micro blogging platform as he shared a video of Vee advising Laycon to avoid Erica. In the video, Vee can be heard joking that Erica might have jazzed Laycon since Laycon doesn't take advice.
Uti tweets;
So wait ooooo let's say Erica has Jazz for man…
Sooo its Laycon she wee now use the jazz on藍藍藍 Jesu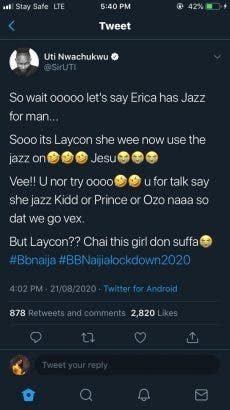 Meanwhile, Twitter users has reacted to Uti's tweet, as they blast him for body shaming Laycon. See some comments under Uti's tweet;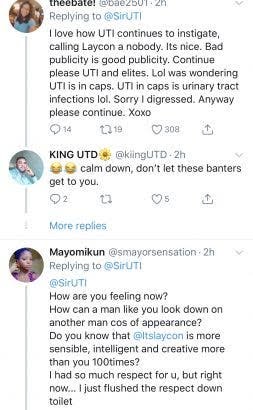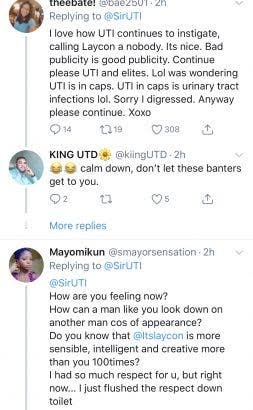 The post Nigerians Drag Uti Nwachukwu On Twitter For Mocking And Bodyshaming Laycon appeared first on .
(Visited 9 times, 1 visits today)