Reality TV Star, Khloe has revealed her mother's reaction after she underwent a buttocks enlargement surgery.
Recall that Khloe once posted a picture of herself nak€d while she was undergoing the surgery so as to increase her butts.
Khloe, in a Question & Answer session on Instagram, revealed that her mother was angry when she found out that she did butt enlargement surgery.
The Q&A session goes thus:
Khloe asked, "What you wanna know?
A random fan wrote: "So sorry! I don't wanna seem rude but what did your mom get angry when you did BBL?"
Khloe then replied saying, "as a mother she was mad but I'm her child and she understand 'loving yourself'"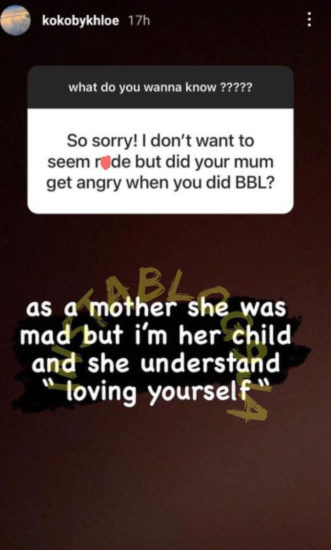 The post Reality TV Star, Khloe Reveals Her Mother's Reaction After Undergoing Butt Enlargement Surgery appeared first on .
(Visited 8 times, 1 visits today)
See How NaijaCover.Com Make Money From Blogging Business, CLICK HERE